"Seaweed Extract Green Plant Fertilizer works magic on our plants", our fellow gardeners say so.
Seaweed Extract Nutrients are easily absorbed by your plants and in no time, your plants start blooming, the flowers on it gradually converting into healthy fruits and vegetables.
But you have to use it once to experience its magic on your plants.
When we started our journey back in 2011 as kitchen gardners, we were total novices.
Our knowledge about a plant's nutrient requirements and all the available solutions for the same was nothing but zero.
Our first attempt at growing vegetables in pots was no less than a disaster.
And even though we did manage to grow leaves on our vegetable plants, their yield did not go beyond a few Bitter gourds, Began and Bhindi.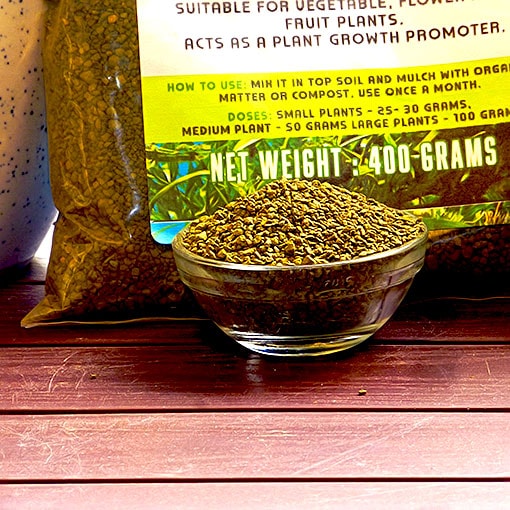 This result was far from what we had initially dreamed of, & our hope for growing our own pesticide free vegetables in our terrace garden was all but crushed.
This made us intent to look for a solution which would help all the labour that we were putting into our terrace garden actually bear fruit.
We explored and found out pretty quick that we needed to look beyond the smelly compost available at our local nursery walas. We needed to give our plants additional fertilizers that could provide them with the much needed Nitrogen, Phosphorus, Potassium and other Plant Micronutrients.
In our quest to do that, we bought many types of fertilizer on the basis of the various benefits embellished on their attractive labels, Seaweed Extract was one of them.
Though most of those fertilizers didn't live up to their claims, we soon realized that Seaweed Extract's plant fertilizer effect on our plants was nothing short of miraculous!
Over the years we have tried many different Seaweed Extracts and have also experimented by mixing and matching a few promising combinations. It's how we've come up with the formula for our current Seaweed Green Extract formulation. We've made this organic fertilizer by mixing two superior quality Seaweed extracts available.
Seaweed Extract Benefits : Seaweed
Extract
Green triggers Good health in all types of plants, whether you are growing ornamental of fruit or vegetable plants.
Plants' leaves get darker, the colour of its flowers gets more vibrant and it's stems get thicker and stronger.
Within a matter of a few days, you will see improved flowering and fruiting.
There will also be a considerable increase in the number of vegetables and fruit per plant.
The Seaweed Extract Green has a positive effect on plants, making them happier and healthier.
How to use Seaweed Extract
Green
?
Seaweed Extract Green is a simple to use no mess slow fertilizer. There is no preparation needed to use this fertilizer.
For plants growing directly out of the ground, add Seaweed Extract Green to the soil mix at time of transplanting, add it to top soil before its flowering and fruiting stage and also after the harvest.
For plants growing in a pot, add Seaweed Extract Green to the top soil at least once a month.
For fruit and vegetable plants like Lemon, Guava, Mango, Grapes, Tomato, Brinjal, Lauki, Karela, etc. that have a heavier yield, Seaweed Extract Green needs to be added to the top soil once every two weeks instead of just once a month.
Seaweed Extract Dose: How much quantity of Seaweed Extract Green can be given per plant?
For small sized plants – 25 – 30 Grams per application
For medium-sized plants – 50 Grams per application
For large sized and fruiting plants – 100 Grams per application
Why Seaweed Extract Green fertilizer works for all plants?
Seaweed Extract Green Fertilizer Granules is an Organic slow release Fertilizer and a plant growth regulator. It is made up of marine plants and Kelp (large brown algae), that are full of Nitrogen, Phosphorus, Potassium, other Micronutrients, trace minerals and also hormones that stimulate plant growth.
Basic nutrients for all plants be it a vegetable plant, a fruit plant or even an ornamental plant is the same.
Thats is why Seaweed Extract Green Fertilizer works for all type of plants
It is a highly suitable fertilizer for vegetable plants like Tomato, Chilli, Brinjal, Bottle Gourd (lauki) Bitter Gourd (Karela), Okra (bhindi), etc. and also for fruit plants like Grapes, Mango, Guava, lemon etc.
Buy Seaweed Extract Green Fertilizer from Shashi n Gautam Kitchen Gardeners Web Shop Online India at a economical price.