SEAWEED FERTILIZER WORKS AS MAGIC ON OUR PLANTS," OUR FELLOW GARDENERS SAY SO.
Seaweed Fertilizer for Plants is a one of a kind fertilizer that acts as both a Growth promoter and a Soil Conditioner and also provides complete nutrition to plants in the form of nitrogen, phosphorus, potassium and various other plant micronutrients.
Is Seaweed Green a 100% natural product?
Seaweed Extract is an organic fertilizer. It is made of marine algae and doesn't contain any synthetically created components.
So, it is an ideal choice for those of us who are hesitant about using any chemicals in our gardening as we can easily use this fertilizer with no fears.
Seaweed Extract Powder is also non-toxic and harmless to humans and other animals.
Seaweed Green Fertilizer improves flowering and flower to fruit conversion in fruit plants.
Seaweed Fertilizer improves flowering in fruit plants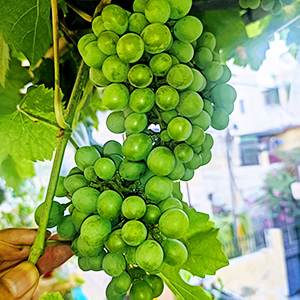 Seaweed Fertilizer improves Flower to fruit conversion
Seaweed Fertilizer improves harvest in fruit plants
Seaweed Fertilizer contains Cytokinins, Auxins And Gibberellins.
Seaweed Fertilizer contains Cytokinins, Auxins And Gibberellins.
These hormones are an essential part of commercially available plant growth promoters and influence every stage of plant life, from seed germination to harvest.
The combined benefits of these three hormones to your plants are:
Improved seed germination rate.
The plant will have healthy root growth, resulting in an increased supply of nutrients to the plant.
The plant will grow new branches, and more Flower buds will be formed.
Regular use will stop flower drop.
More and more flowers will convert to fruit.
Seaweed Fertilizer Contains Alginates, which are insoluble carbohydrates.
Alginates act as soil conditioners. Regular use will loosen compacted soil and improve its moisture retention properties.
We have seen crumbling, improved aeration and soil structure, even in clay soil.
Increases the number of nitrogen-fixing bacteria that convert nitrogen in the air into ammonia, which is then used by plants as nutrients.
What benefits can you expect from using Seaweed Fertilizer?
Seaweed Fertilizer contains all essential Plants Macronutrients like Nitrogen, Phosphorus, Potassium and Micronutrients like Calcium, magnesium, Zinc, Boron, Iron, Molybdenum, etc. So,
Using seaweed fertilizer affects your plants in a lot of positive ways.
Your plants will get balanced nutrition for all round growth.
It is a slow release fertilizer, providing nutrition for longer.
And even though it is a nutrient packed fertilizer, it does not burn the plants.
Your plants' leaves will get darker, the colour of their flowers gets more vibrant and their stems will get thicker and stronger.
Within a matter of a few days, the overall health of the plant will improve and there will be a considerable increase in the number of vegetables and fruit per plant.
The size of flowers, fruits, and leaves will get bigger
Your plants will become hardier and even do well under water and weather stress.
With boosted immunity, your plants will also show better resistance towards disease and pest attack.
Simply put, the plant will no longer just survive, but will actually thrive.
Seaweed Green Improves the quality and the size of Vegetables growing in your Kitchen Garden.
Full sized Bottle Gourd grown in pot using Seaweed Green
Big size Brinjal grown in pot using Seaweed Green
Jumbo sized Tomatoes grown in pot using Seaweed Green
Seaweed Green, the Organic Seaweed Fertilizer is available online at our Web Shop at a very economical price.
Small Pack: 400 Grams @ Rs130/-
Economy Pack: 1 Kg @ Rs240/-
Super Saver Pack: 2 Kg @ Rs450/-
If you are living in a coastal area, the cost/price of using seaweed as a fertilizer for your plant can be zero.
You will just need to collect some of the seaweed that has washed ashore and add it directly to the soil. Soon, the seaweed will decompose, and its nutrients will be available for your plants.
In India, the ready-to-use Organic Seaweed Fertilizer Price varies among the different products available in the market. Seaweed Granules and Seaweed Powder have comparatively low prices, while the Seaweed Liquid Fertilizer price is much higher.
Seaweed Manure bulk packs for agricultural use have cheaper prices. These bulk packs have a much lower percentage of Seaweed nutrients in them.
Most premium blends of Seaweed Extract Fertilizers for flower, fruit, and vegetable plants that also have added nutrients for extra power (as they have a higher concentration of seaweed nutrients & other growth promoters) usually come in small packings.
Their prices are more than the bulk packs meant for agricultural purposes.
Our extra powerful Seaweed Green, available online at our Web shop, has a much lower price than Seaweed Extract available on bigger eCommerce portals. But it scores over them in quality.
Our 5-star viewers rating is a testimonial to our Seaweed Extract quality.
Buy Seaweed Fertilizer for Plant from Shashi n Gautam Online Web Shop India at an Economical Price.
Facing problems like dull plants and poor flowering and fruiting?
We agree that for a plant to shine in your home garden it needs Ideal weather, ample sunlight, adequate watering and protection from pests and diseases. But by feeding them our Seaweed Green Fertilizer, you can at least ensure that your plants don't have dull looking leaves or small deformed flowers or a tiny yield of fruits & vegetables because of nutrient deficiencies.
And with regular feeding of Seaweed green Fertilize Granules, plants get complete balanced nutrition and start performing well even in less than ideal conditions.
How To Use Seaweed Green Fertilizer for Plants?
You can use Seaweed Extract Fertilizer as top dressing and also to make liquid fertilizer tea that can be added to irrigation water or for spraying directly on the plants.
Mix it in Soil Mix and Top Soil around plants
Seaweed Extract Powder Fertilizer is a simple to use, no mess slow fertilizer & requires no preparation.
For plants growing directly out of the ground, you can add it to the soil mix at the time of transplanting, and before its flowering and fruiting stage, and after the harvest.
For plants growing in a pot, you can add it to the topsoil once a month.
For fruit and vegetable plants like Lemon, Guava, Mango, Grapes, Tomato, Brinjal, Lauki, Karela, etc. that have a heavier yield, Seaweed extract fertilizer needs to be added to the topsoil once every two weeks instead of just once a month.
Seaweed Green will not burn plants even if mistakingly used.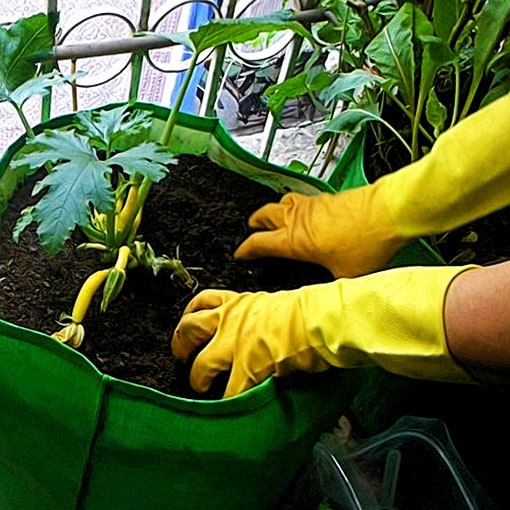 How much quantity of Seaweed Extract Granules can be given per plant?
For small-sized plants–25–30 Grams per application.

For medium-sized plants–50 Grams per application.

For large-sized and fruiting plants–100 Grams per application.
How to make Seaweed Liquid Fertilizer Tea?
Tie 200 grams of Seaweed Green in a piece of porous cloth, making it into a pouch.
Place it in a water-filled 20 liter bucket.
Keep it aside for 24 hours.
Stir the content of the bucket until the water turns brown because of the nutrients being released from the pouch.
You can then add this mixture to irrigation water or directly use it as a foliar spray.
Once this mixture is all used up, you can refill the bucket with water for the next use.
You can keep repeating this process until the pouch stops departing brown colour to the water.
If the water is dark, you should dilute it by adding additional water until it is light brown.
You can also alternatively use our ready-to-use Liquid Fertilizer
All In One Plant Liquid Fertilizer
FRUITS AND VEGETABLES ORGANICALLY GROWN BY OUR FELLOW GARDENERS, USING GARDENING INPUTS FROM SHASHI N GAUTAM WEBSHOP
Why Seaweed Extract is our favourite fertilizer?
When we started our journey back in 2011 as kitchen gardeners, we were total novices.
Our knowledge about a plant's nutrient requirements and all the available solutions for the same was nothing but zero.
Our first attempt at growing vegetables in pots was no less than a disaster. And even though we did manage to grow leaves on our vegetable plants, their yield did not go beyond a few Bitter gourds, Began and Bhindi.
This result was far from what we had initially dreamed of, & our hope for growing our own pesticide-free vegetables in our terrace garden was all but crushed.
This made us intent to look for a solution that would help all the labour that we were putting into our terrace garden actually bear fruit.
We explored and found out pretty quickly that we needed to look beyond the smelly compost available at our local nursery walas.
We needed to give our plants additional fertilizers that could provide them with the much-needed Nitrogen, Phosphorus, Potassium, and other Plant Micronutrients.
In our quest to do that, we bought many types of fertilizer on the basis of the various benefits embellished on their attractive labels, Seaweed Extract was one of them.
Though most of those fertilizers didn't live up to their claims, we soon realized that Seaweed Extract's plant fertilizer effect on our plants was nothing short of miraculous!
Over the years we have tried many different types of Seaweed Extract Plant Fertilizers and have also experimented by mixing a few promising combinations.
It's how we've come up with the formula for our current Seaweed Green, the Seaweed Extract Fertilizer.
Since then Seaweed Extract Fertilizer has become our favorite solution to get more fruits, flowers, and vegetables from our kitchen garden.
Seaweed Extract is Best Fertilizer for Plants.